9-Feb-22
Here are my favourite organic fruits at Healthy Buddha this February, we would love to know which is your family favorite? :-)
1. Grapes- this is easily our best seasonal fruit. Our customers absolutely love it for its sweetness. Honestly it is not easy to grow organic grapes, very few people do it. So when they do it, you consume it :-) This is my personal favorite too.
2. Chikoo - just started from our favourite farmer Seshu. And they are really yum! He makes sure they are plucked at the right time and so we don't have ripening issues. We have always received excellent feedback from our customers. Try it for yourself and let us know.
3. Strawberries - this has been going strong since January. We are still loving it. They are really sweet when consumed full red. My daughter just gorges on this.
4. Mosambi - these are our ugly ducklings. They look not so impressive on the exterior, but they are really juicy and fresh inside. Makes a great fresh juice.
5. Golden Berries - many call it Rasbhari too. Love its fresh and tangy taste - convenient to snack on & found it works well in a simple salad. Seems to be popular with the kids too.
6. Oranges - Nagpur oranges are back and they taste good. Kinnow and Malta also available this week.
7. Apples - first let me clarify, it is not apple season. Apple season gets over by November. At some farms, even earlier. Apples at any place now will be cold storage stored Apple. But, the batches of fruit we have been getting recently smells heavenly and they come from an elevation of 11000 ft and above. Has travelled in hand, on horse back, in trucks and local transportation and finally now in train to Bangalore. So it might have a dent on the fruit. But it is absolutely chemical free and has no artificial wax - unlike what you will find in imported apples in supermarkets.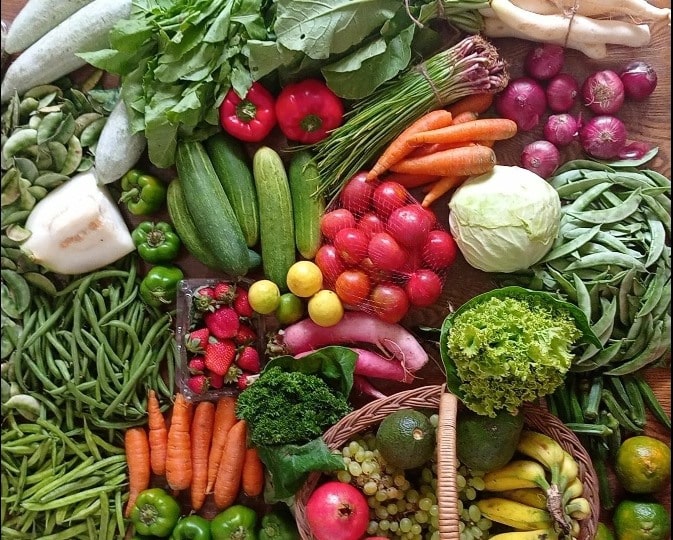 Pic Credit: Our Customer Rashmi. A Big thank you for sharing this beautiful pic of our delivery.

- Gautham
---
5-Jan-22

Hi, the amazing strawberries are here! They are coming all the way from our beloved organic farmer Sandeep in Mahabaleshwar.
Check out a short video view of our farmer harvesting it,
While you're enjoying the strawberries this season - here is something you must read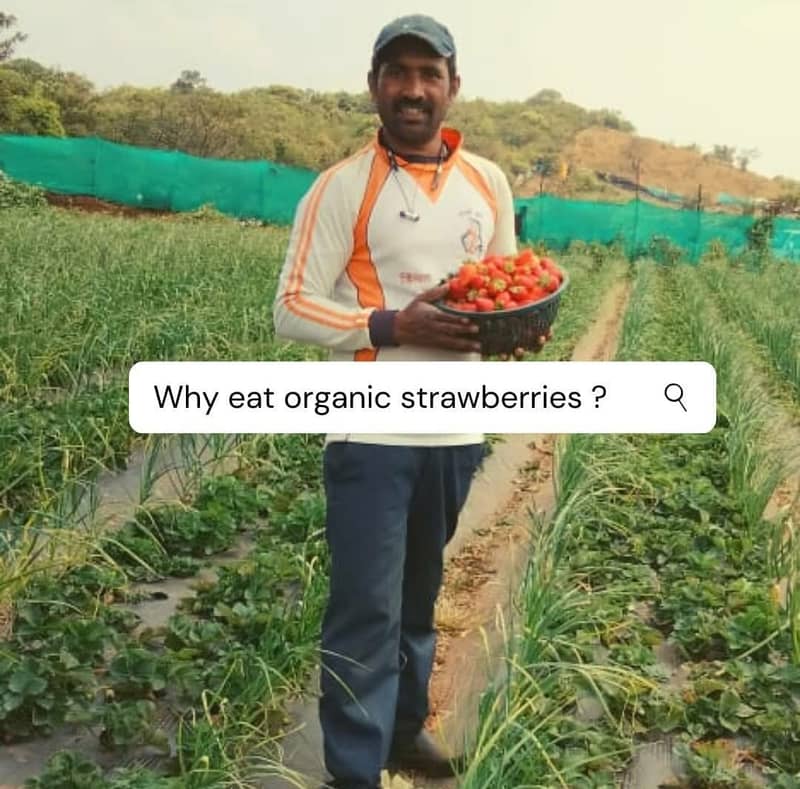 Did you know there is a list called the Dirty Dozen™ that comes out each year ? Strawberries tops the list almost every single year. Among others, strawberries had residues of two or more pesticides on at least 90 percent of samples. ( Source ewg.org )
The Dirty Dozen™ is a trademark term used to define the twelve crops that farmers typically use the most pesticides on.
The data for these food lists comes from the United States Department of Agriculture Pesticide Data Program. But the scenario isn't too different here in India, when it comes to strawberries.
It is not an easy task to grow strawberry organically. We are very grateful to our passionate farmer friend Sandeep who sends us with great care, organic strawberries all the way from Mahabaleshwar.
'Mahabaleshwar Strawberry' has received it's GI ( Geographical Indication ) Tag - a name or sign used on certain products which corresponds to a specific geographical location or origin (e.g., a town, region, or country).
The climatic conditions in Mahabaleshwar are very well suited to grow strawberry than any other part of the country. The taste and sweetness of this fruit is unique.
GI tag conveys an assurance of quality and distinctiveness of product which is attributed to the location where it is grown.
Sandeep has been practicing organic farming for the past 5 years and takes great care in growing these delicate fruits with absolutely no chemicals.
We eagerly await his harvest of organic strawberries each season ! We would love to know your feedback of our strawberries if you have already tried them :-)
Gautham
---
30-Dec-21
Hi,
With just a few days left for the new year, we checked on our data to see which took the top spots in different categories at healthybuddha.in . So here are the awards for the Top Selling HB Products from 2021.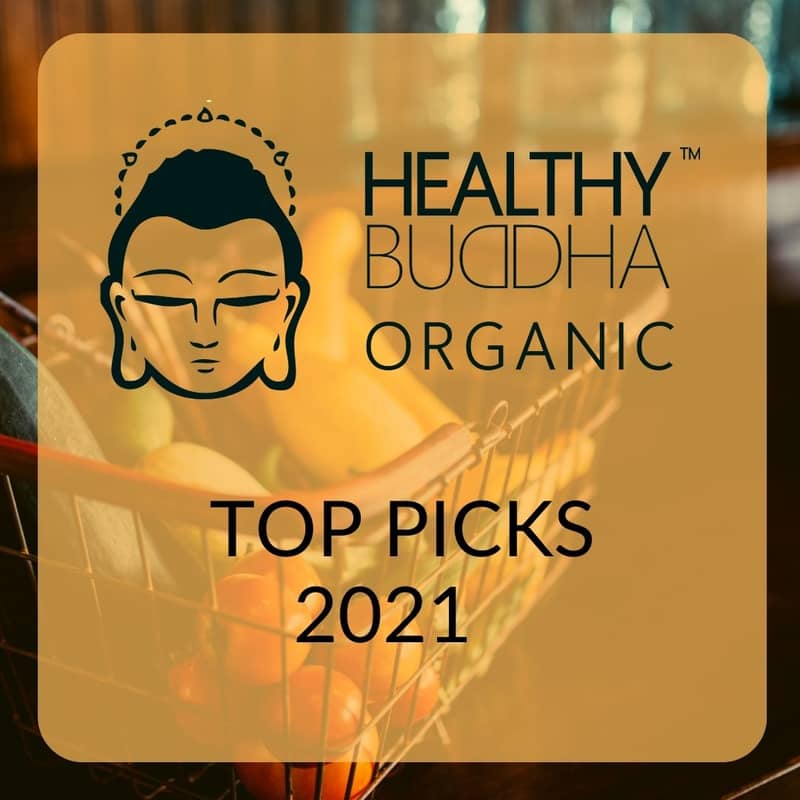 ____* HitRewind *_____
Best Debut of the year : Oyster mushrooms
Most bought veggie ( other than staples like onion/tomato/potato.. ) : Moringa/Drumstick followed by Carrot
Green gangster : Baby Spinach (Not counting the regular greens)
King of kings mango : Alphonso Mango
Going traditional 2021 : Soapstone Curd Setting vessel
Creamy vs Crunchy Peanut Butter ? : finally settled - Creamy wins
Favourite shape of pasta : Macaroni
Microgreen that got macro response : Fenugreek
Fruit you most loved in 2021 : Watermelon
Rice that rose up Top : Rajmudi Rice
Most often consumed cold-pressed oil : Sunflower Oil
Snack buddy of the year (sweet) : Chikki bar
Snack buddy of the year (savoury): Nendran banana chips (made with cold-pressed oil )
Cheesiest of 2021 : Feta Cheese
Coolest cooler : Malta orange cooler
Type of Biriyani rice you loved : Biriyani Pulao rice
Most sustainable switch : Tie between - Bamboo toothbrush x Reusable kitchen roll
Bakery's best : Paav Buns
Best bakery debut : Sourdough Bread
Breakfast favourite : Idli/Dosa batter
Most preferred Sweetener : Jaggery powder
Booch flavour pick : Darjeeling Summer Oolong Kombucha. But 3 Pack was the biggest seller.
Best HB Moment of 2021 : HB Android App Launch !! :) iOS coming soon in 2022.
It was not an easy year with the disastrous Covid wave 2 inbetween. But, we all did make it through together.

What a Year ! Roller coaster ride of 2021 is coming to an end. We all MADE IT & HOW !

Thankful to you for every kind word shared, thoughtful gesture & support through 2021.

Team HB wishes you and your family a healthy, happy new year ! Ready to take on anything, 2022 here we come.
I would love to know what you felt was your favourite product or if you like us to focus on adding any new product that you would like us to add in 2022.
Gautham
---
24-Nov-21

Hi,

Rain Rain Go Away, Our Organic Farmers Need to Play!

You all must have noticed many of our Healthy Buddha regulars like Palak, Methi and so on, have been out of stock recently. You might have also noticed some spots on leaves/not the usual lively looking greens.
The reason ? Non stop rains !
Wait, isn't rain good for farming ?
It is required. But too much of something good can be too bad, causing havoc at the farm.
What trouble can excessive rains cause ?
Reality is, 90% of organic farmers in India practice their farming in open lands.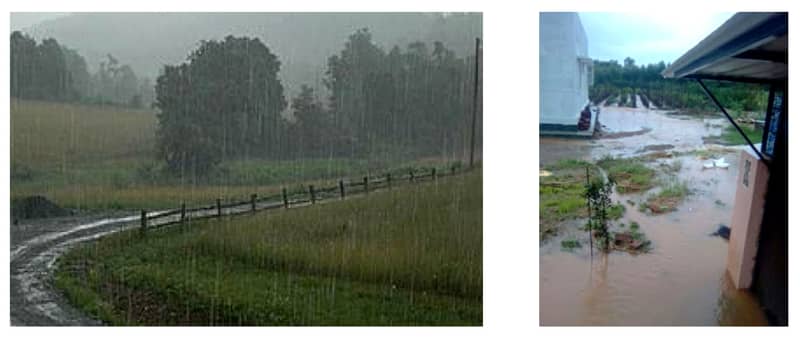 This kind of weather leads to flooding & crop failure.
Overly wet weather leads to formation of fungus, destroying the crops.
Seeds sown do not germinate.
Soil borne pathogens increase.
The organic sprays do not work well.
The regular cycle of spraying organic fertilizer gets disrupted.
Diseases are more likely on plant manifested by decay, wilting, spots or death of plant.
Excess rain even keeps the pollinators away.
Let's hear directly from the organic farmer
Bringing you this video snippet in candid conversation with farmer Nagaraj - so that we all keep aware about the happenings at the farm level especially during the recent rains.
All said, they never give up. Patiently working along with nature they assure farm will soon revive.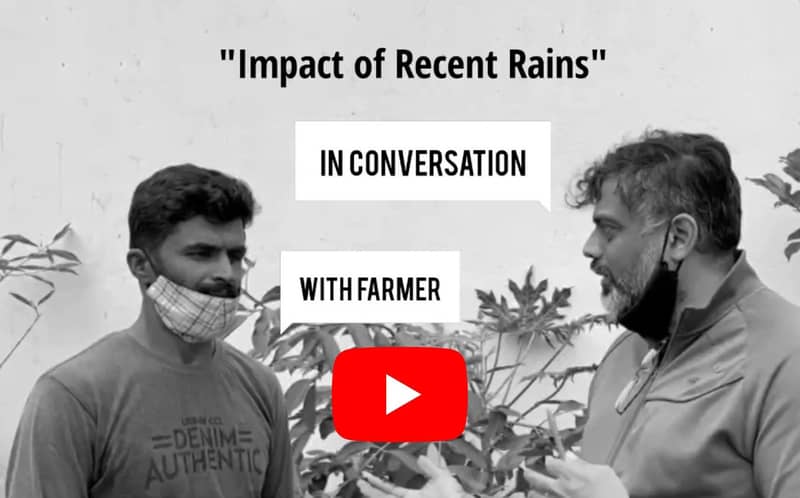 11-Nov-21

Hope you had a good festive season with your family and friends. Just wanted to reach out and share some information with regards to Kombucha.
So we have put together some information regarding it for you to understand better.
Kombucha is fermented tea, a beverage which is naturally effervescent.-
It is made by allowing tea and cane sugar to ferment by specific friendly bacteria and yeast. They are a natural source of good bacteria. Makes it a great alternative to artificial fizz drinks / sugary sodas.
Did you think Kombucha is just a new trend ?
Kombucha is actually an ancient widsom that has been around for over 2000 years.
Early recipes are thought to date back to China's Qin Dynasty in 221 BCE, prized for its healing properties. Legend says, Dr. Kombu, a Korean physician brought the fermented tea to Japan as a curative for Emperor Inkyo.
Reports also say it was consumed during WW1 by Russian & German POWs.
If you're wondering, isn't kombucha sugary too ?
Most of the sugar added to the tea is consumed by bacteria during the fermentation process. A byproduct of this is carbon dioxide, naturally produced fizz.
Moreover it has various effects that are beneficial to us.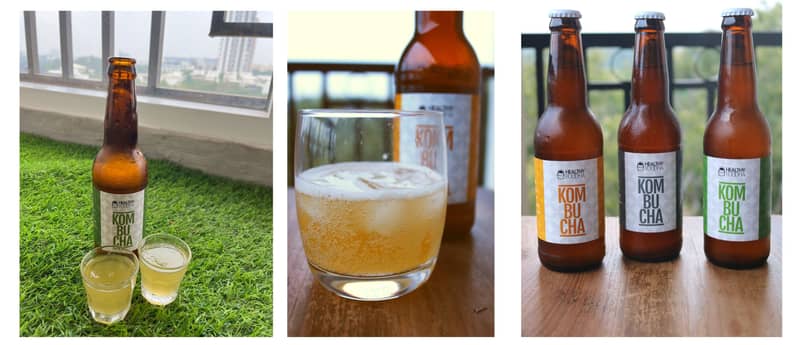 Why drink Kombucha ?
Natural source of good bacteria (probiotics) that help maintain gut health & several beneficial effects on health.
Helps digestion & boost to immune system
Rich in antioxidants that help fighting bad bacteria as well as several other diseases.
Rich in tea polyphenols that help suppress growth of undesirable bacteria and yeast.
Kombucha has become our go-to beverage as it's very refreshing & leaves us feeling light.
Nutritional Facts / 100ml :
Carbohydrate : 3.23g
Sugar : 2.86g
Energy : 12.92Kcal
Planning to try it for the first time ? Here are some tips :
We recommend about 1 bottle a day.
Preferably have it in an empty stomach. Consuming in empty stomach helps one get the best of Probiotics benefits.
Otherwise it can be consumed before, with or after food or anytime of the day.
If you are drinking for the first time, drink 150 ml. approx half a bottle and observe how it works for your gut.
Burps and improved bowel movements are normal signs for a beginner.
You could increase your intake gradually, once taste is acquired and you're comfortable.
Drink it chilled to have a refreshing experience.
I personally find it very very refreshing to have it really cold either in the morning (on an empty stomach) or in the afternoon.
Gautham
---
6-Oct-21
In 2019, during one of my trips, I came across a farm filled with cabbages in outskirts of Bangalore. When I went inside the farm, it had a very strong pungent smell. It literally gave me a headache. I covered my nose, and I went up to the farmer, and asked why such a strong chemical smell. He casually told me that they have just done the 10th dose of chemical sprays.
I also understood that the conventional farmers dunk their cabbages in a chemical solution called carbofuran (furadon) to give it a greenish blue shine before they take it to the mandi to sell it. After all, this is how end customers want. Shiny presentable cabbages.
The scientific literature handed out by the companies who produce it, warns that any produce on which carbofuran is used should not be consumed for a minimum of 28 days.
According to a Deccan Herald Article last year, IIHR(Indian Institute Horticultural Research) scientists say, that in vegetables like cabbage, high amount of pesticides are used.
They quoted: "Farmers use up to 25 rounds of pesticide spray to safeguard vegetables such as these. These toxic chemicals remain in the vegetable even after 35 to 45 days of harvest, thus jeopardising lives of the general public who consume them."
A study done to check use of insecticides in Cabbage cultivation revealed that : Profenofos, fipronil, chlorantraniliprole were among predominately sprayed chemicals throughout the cabbage growing areas of Karnataka (Ravi Bidhar et al., 2020)
So given this context, we recently tested our cabbage from our farm for 60+ pesticide residue in a laboratory to make sure when we say organic we really mean chemical free. We randomly picked it from one of the harvest that arrived in our office.
Lets have a look at the results together, shall we ?

Random Sample : HB Organic Cabbage
Our test results show: Profenofos, fipronil, chlorantraniliprole among 63 pesticide residue are not detected in organically grown HB Cabbage.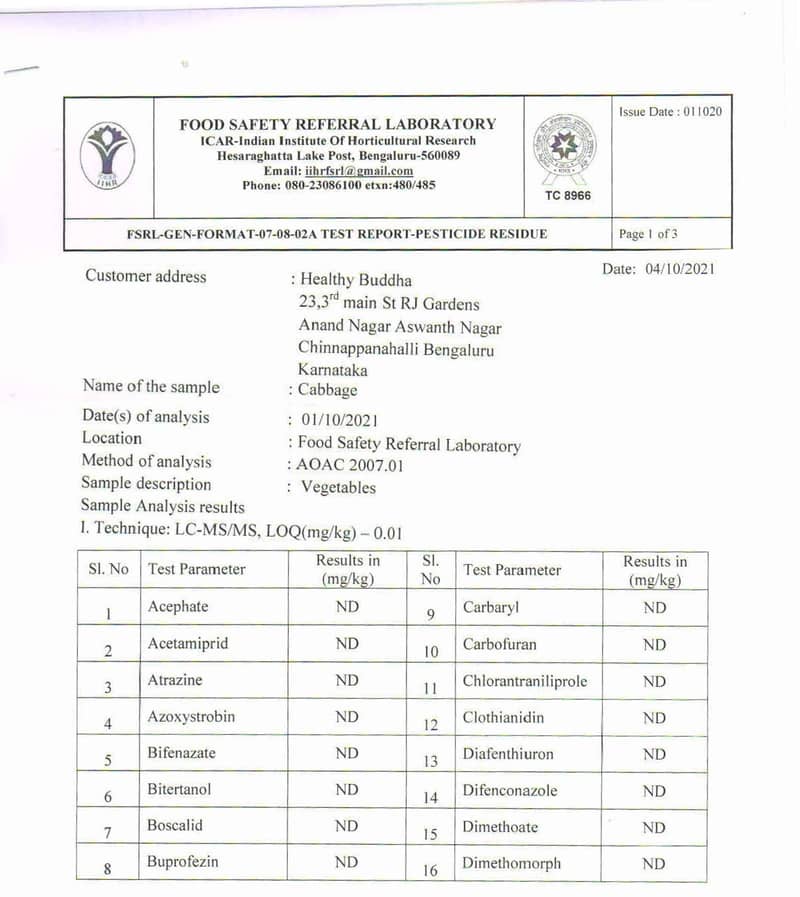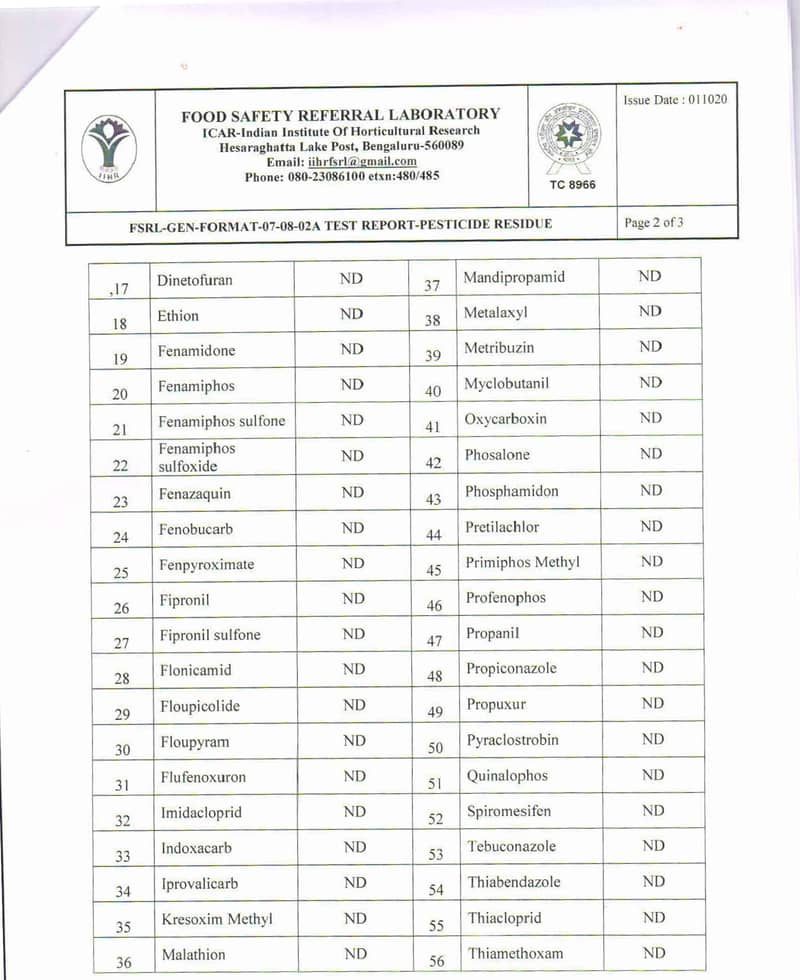 Result : All 63 Pesticide Residues tested, are ND(Not Detected) in sample of HB cabbage.
A BIG Congratulations to our HB organic farmer Munisamy for all of his hard work.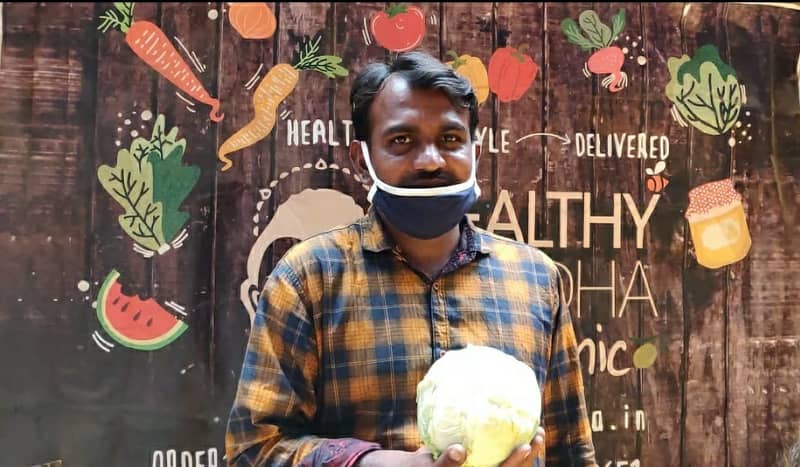 As we always say, we don't want to sell anything that our own family would not consume.

These test help check safety, maintain transparency to you all as consumers and keep our farmers / suppliers in check as well. Rest assured, we stay committed to plan random sampling in the future as well. These tests are a bit expensive and hence we are not able to do for all vegetables. But, we plan to do so at least once in 3 months.

Hope you are as happy to see these results as we are !
Gautham
---
4-Sept-21
Many of you have been asking us about this over the years.
We did try to get it to you 2 years back, but it ran into some issues after the design phase, and got derailed.
After a lot of hurdles over the years, **DRUM ROLL*
We finally have an APP in place!*
Yes, the much awaited Healthy Buddha App is here!
We are rolling out the Android version for now, the IOS app will be out in a month's time.
You can download it here or Look up for "Healthy Buddha" in google play.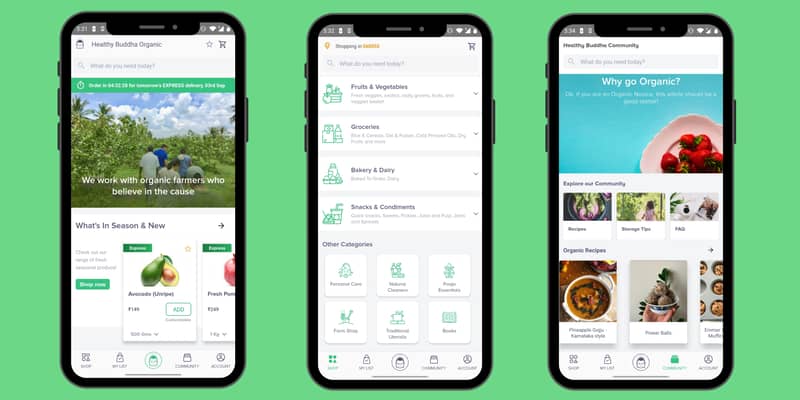 We hope this makes your shopping experience smooth, quick and easy :-)

We would love to hear your feedback here, so that we can make any improvements.
And please do not forget to rate the app in google play (Since it is a new app, it will mean a lot our team)
For those new to HB, here is a bit of flashback. We started Healthy Buddha with an excel file and a static blog (which I created with my limited skills) in 2014. For those curious about how it looked, you can check it out here.
Customers would call us, and we would email/ whatsapp them the list. That's how we use to take orders :-)
We have indeed come a long way since then.
I have so much gratitude towards all our customers who put up with our way of working and supported us. Means a lot.
Please do keep giving us feedback so we can continuously improve and do a better job for you.
Look forward to your next order through our mobile app :-)
Gautham PB
---