Kaanji - Probiotic Black Carrot Drink Recipe
Posted By:

Madhuri Aggarwal

Category:

Other

Level:

Easy

Cooking Time:

fermentation, 3-4days in sun min

Serves:

4-5

Views:

1787
About Recipe:
Kaanji, is well known Indian probiotic black carrot drink made specially in North India. Black carrots are available during the winter season and Kaanji which is a probiotic ,fermented drink is made using these black carrots. Kaanji is quiet pungent and is an acquired taste. My husband LOVES it. I love making any of the traditional dishes as I just enjoy the whole process. Kaanji tastes best when served chilled and is a savoury drink. Like we all know, pro-biotic drinks are known to have nutritional values and increase the immunity of our body. This is why kaanji can be one solution for many problems. Some of the benefits of probiotic drinks are: Treats chronic diarrheas, prevents eczema in children, relieves inflammatory bowel disease, reduces systemic allergy.
Ingredients:
5 to 6 - Black carrots
2 ltrs - Water
4 to 5 - Whole red chillies
2 tsp - Red chilly powder
3 Tbsp - Mustard powder, freshly ground
Salt to taste
¼ tsp - Lime salt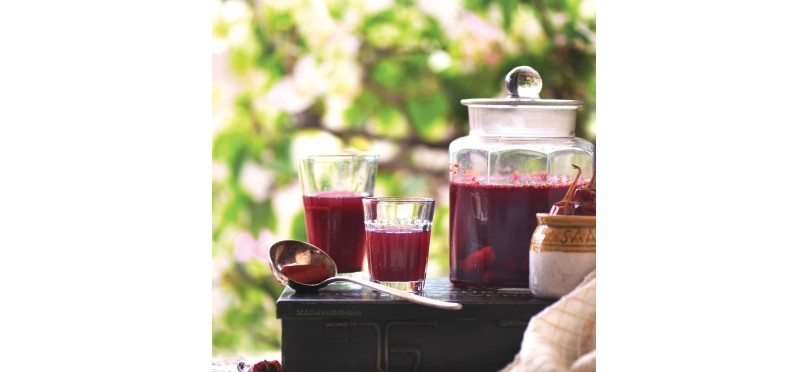 Procedure:
Wash the carrots really well and chop them.
Kaanji making is the result of naturally occurring bacteria in the air and yeast found in the vegetable skin, which is why we do not scrape the peel of the carrots. These work on the natural sugars in the carrots, which get pickled in turn.
Put them in a clean and completely dry glass bottle with an airtight lid.
Boil the water and bring it back to lukewarm temperature.
Add water into the glass bottle and add the remaining ingredients to it.
Give it a good mix. Taste and adjust the spice and salt at this stage. Kaanji is mostly a recipe of approximate calculation of the ingredients. Hence please check the taste and adjust it according to your taste.
Cover the bottle with the lid and leave it in the sun for 3 to 4 days or maximum for a week depending on how harsh the sunlight is.
Stir it once every morning with a clean spoon before keeping it in the sun.
When the Kaanji tastes sour, it is fermented and ready.
Strain the kaanji and refrigerate.
Serve it chilled.
Tips :
You can use the pickled carrots in salads or as an accompaniment to roti and sabzi like how we serve Khatta Pyaaz.
In case you do not have access to black carrots you can use regular carrots and one beetroot.