Milk Cake (Ghee residue/khurchan) Recipe
Posted By:

Kaveri Sahay Prasad

Category:

Dessert

Level:

Easy

Cooking Time:

15-20 min

Serves:

6-7 pieces

Views:

2084
About Recipe:
Milk Cake made of the Residue / khurchan which we collect when we prepare ghee at home
Ingredients:
Residue / khurchan which we collect when we prepare ghee at home - ⅔ cup
Sugar - a little under ½ cup or as per preference.
Cardamom powder- ¾ tsp
Desiccated coconut - 3 tbsp or so.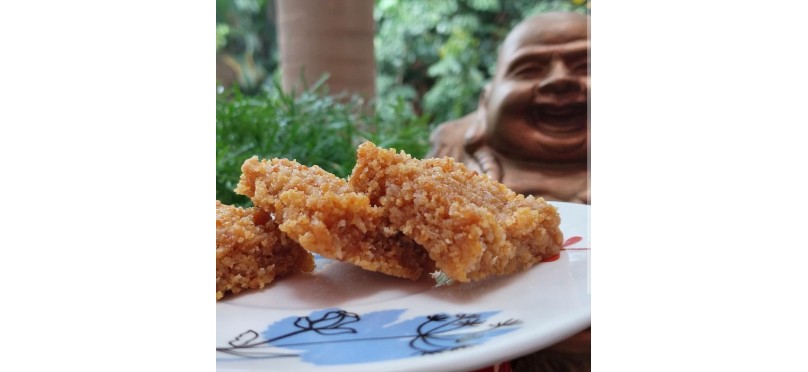 Procedure:
Prep up -
The residue itself holds some ghee . So , to the residue add ½ cup of boiling water.
Mix well.
Now strain this liquid through a sieve. Gently press the residue to release excessive moisture.
Now the residue can be used for making the milk cake.
Tip - The hot water helps in extracting ghee which was resting in this porous absorbent residue.
Reserve this water and add it to any daal, rice or subzi you prepare.
You can even knead aata with it.
The Milk cake -
Use the same kadahi which u used for preparing the ghee.
Add the residue to the kadahi and gently cook on low heat for 3-4 min or until the ghee in it gives it a hint of glaze.
Add the sugar.
Continue to cut and fold on medium heat until the sugar melts and coats the residue evenly.
Cook this way until you feel the sugar is leaving a hint of opaque strings when you cut and fold.
Add the cardamom powder and the desiccated coconut .
Mix well and cook for another 2/3 min on low heat - by this time you may feel the mix is binding well with itself.
Spread this mixture onto a greased plate. You can garnish with nuts or desiccated coconut.
Allow it to cool and slice it into desired shapes.
The milk cakes are ready.
This quantity makes 6-7 cakes of a small size ( 3 cm by 3cm ).