Sai Thoum (Spring Garlic) jo Dodo - Flatbread Recipe
Posted By:

Kusum Rohra

Category:

Other

Level:

Easy

Cooking Time:

20min dough prep + 5 min

Serves:

4

Views:

1270
About Recipe:
Sai Thoum (Spring Garlic) jo Dodo Dodo ( Singular) / Doda (Plural) in Sindhi meals a flatbread and different dodas are made using various different millets. A spring garlic dodo is made using Jowar Flour.
Ingredients:
Jowar Flour 3 cups
Fresh Coriander Leaves - Washed and chopped. 1/2 Cup
Finely chopped Green Chilles - 3 Nos. (Adjust as per tolerance for heat)
Finely Chopped Spring Garlic - 1/2 cup (Both the white bulb and the dark green sections)
Salt to taste
Ghee 1 tbsp for kneading
Ghee 3 tbsp for cooking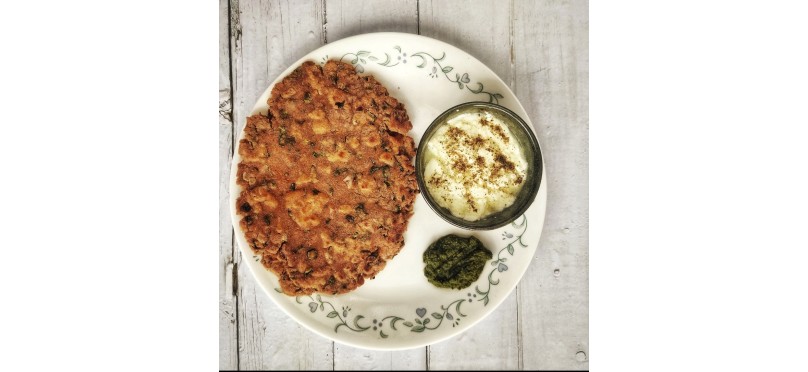 Procedure:
In a deep kneading bowl. sieve the jowar flour, add all the ingredients (except the ghee that is needed for cooking) and mix them well without any water first, then the dough is to be kneaded with water being added very slowly till it's soft and pliable.
Cover the dough with a kitchen towel and let it sit for 20 mins.
Portion the dough into 4 equal parts (approximately 80 gms each).
Line the rolling board with a clean plastic sheet and rub a few drops of ghee on it.
Now put the portioned dough on the rolling board and pat it down till it gets the thickness of a paratha.
On a hot tawa, add half a teaspoon of ghee and transfer the rolled dough on it. Ideally the dodo (sindhi flatbread) should be cooked on a low flame for it to become uniformly crisp and cooked from within.
Let this cook for 2-3 minutes on each side, Make sure to not flip it too soon and to add some ghee on top before flipping it.
A dodo is best enjoyed hot with a side of curd and the ubiquitous sindhi papad but it eats well with dal, sai bhajii (sindhi palak) and just as a snack with tea also.