Mango Ginger and Fresh Turmeric Pickle Recipe
Posted By:

Athashri Swapnil

Category:

Other

Level:

Easy

Cooking Time:

10 min

Serves:

1 Jar

Views:

2812
About Recipe:
Made with fresh produce mango ginger and fresh turmeric.
Ingredients:
Mango ginger peeled and sliced.
Fresh Turmeric peeled and sliced.
(Taken in ratio 60:40) - both about 1.5cup
5 Green Chilli chopped
3 Lemons juiced
3-4 tsp Salt
5-6 tsp red chilli powder
1/2 tsp jeera
1/2 tsp mustard seeds
1/2 tsp methi seeds
1/2 tsp hing
1/8 cup oil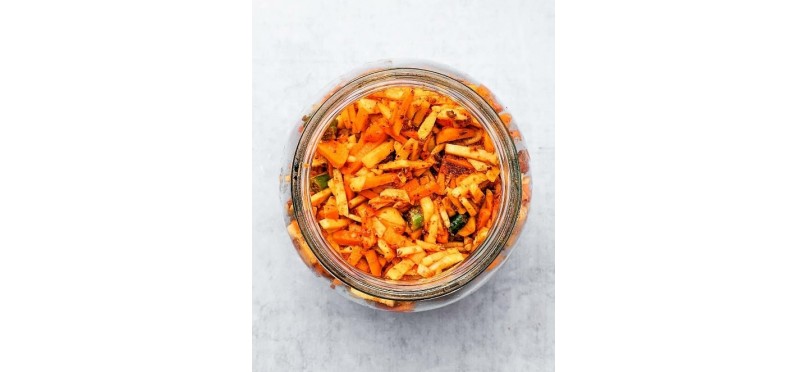 Procedure:
Mix everything except jeera, mustard, methi seeds and hing.
Dry roast the above and coarse grind it.
Heat oil and once heated turn it off.
Add the hing and course masalas.
Mix and let the oil cool down.
Add this to the oil mixture and mix well.
Taste the pickle liquid add pinch of sugar if you like.
Adjust salt if needed.
Close and keep in the sun for 2 days.
Store in fridge lasts a couple of months.
Note : Jar must be completely clean and dry. No water should be introduced at any point or the pickle goes back quickly.