Strawberry Jim Jams Recipe
Posted By:

Abha Jain

Category:

Dessert

Level:

Medium

Cooking Time:

approx 50 min

Serves:

7

Views:

1538
About Recipe:
Yummy strawberries from Healthy Buddha turned into delicious jam and used to make delicious buttery wheat jim jam or linzer cookies. The strawberries were so sweet that I needed very less sugar to make the jam
Ingredients:
For whole wheat linzer cookies
300 gms whole wheat flour (WWF)
130 gms unsalted butter at room
temperature
20 gms cold pressed coconut oil
3/4th cup raw cane sugar
4 tbsp milk
2 tsp vanilla
1 tsp salt
For Strawberry Jam:
300 gms organic finely chopped
strawberries
½ cup raw cane sugar or khandsari
½ tbsp lemon juice ( no need if strawberries
are sour)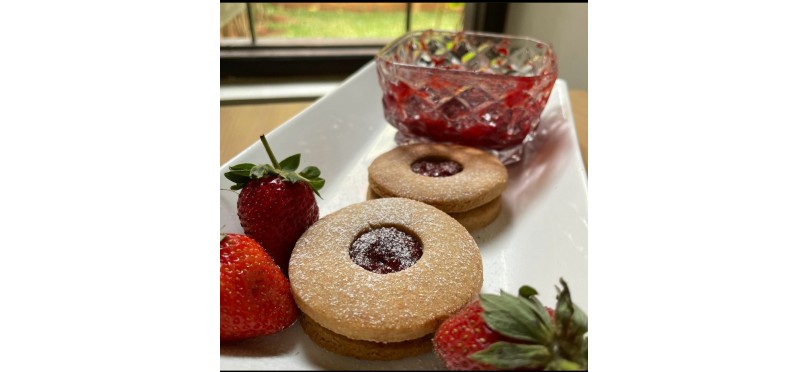 Procedure:
For Cookies:
Using cookie dough attachment , whip butter well for 3 mins, add sugar and mix both well.
Mix WWF and salt with whisk
Keep adding dry ingredients in small portions and combine and add milk slowly to get peda consistency.
Don't over knead the dough, just bring all together to form 2 equal dough balls. Cling wrap them tightly and refrigerate for 30
mins
Preheat the oven at 180 C. ( top and bottom mode on)
On a pastry sheet or granite top, take two parchment paper of equal measurement. Make a medium sized dough ball and roll it
approx 0.25" thin between the paper
Using a round cutter or sharp metal lid, cut round and for the other round, cut the middle of it with an icing tip bottom (big enough for the jam to ooze out a little bit)
Bake the bottom whole cookies in one baking tray for 20 to 24 mins and the top one with holes, bake in a separate tray for 20
mins ( I use BOROSIL OTG) . Morphy Richards will need 16 to 18 mins at 160 C (Based on past experience)
Cool them on a rack.


For Strawberry Jam:
In a glass bowl, add sugar and lemon juice in strawberries, mix well and let it sit for 30 mins.
In a pan, at low flame, cook the strawberries for 30 mins stirring it at equal intervals.
It will start reducing and become syrupy and then come to jelly consistency, separating from the sides of the pan.
How to know the jam is ready? One test is to take a spoonful of the strawberry jam on a plate and let it cool. If it sets on cooling and there is no water separation this means the jam is done.
Best part about Linzer cookies is, you can play around with other fruit flavours like grapes, pineapple, organic apple, apricot jams.
Take a small dollop of jam and put in the center of the whole cookie and pat it gently. Put the other cookie with hole and press it gently.