Tepache - Fermented Pineapple Drink Recipe
Posted By:

Abha Jain

Category:

Other

Level:

Easy

Cooking Time:

3-4 days fermentation min

Serves:

5-6

Views:

2921
About Recipe:
Tepache is an excellent probiotic fermented drink actually from Mexico. To beat the extreme summer, farmers used to make Tepache out of corn. This is prepared with Pineapple skins. The peel of pineapple has natural yeast which helps in fermentation.
Ingredients:
Pineapple peel from one large organic pineapple. Washed gently
Whole spices like 3 to 4 cloves, 2 star anise, large crushed cinnamon stick
Big chunk of crushed ginger with peel.
4 to 5 hot chillies red or green crushed along with the top.
Around 2 liters water
1 cup organic dark jaggery powder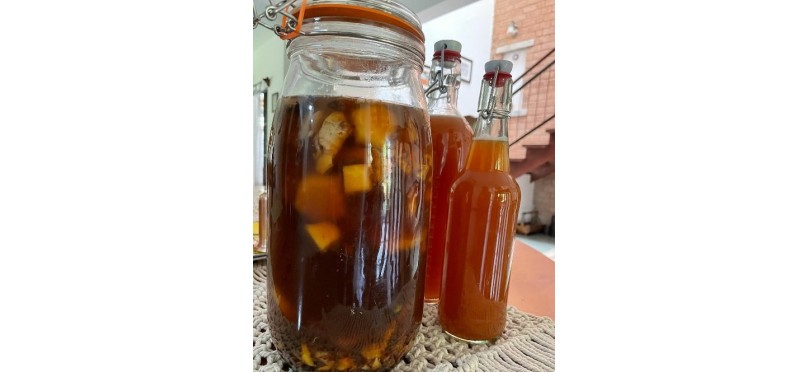 Procedure:
Add all in a big glass jar with lid that has clip on.
Shake well and tighten it with a rubber band to let some air pass in.
Leave the jar on dark counter space for 2 days
Strain it and fill in long 750 ml glass bottles that are thick enough to take the pressure.
Leave them for another 2 days before keeping in the fridge.
Serve chilled.
Stays good for 20 days.