Mango Quinoa Bowl Recipe
Posted By:

Sudipto Nayak

Category:

Breakfast

Level:

Easy

Cooking Time:

15-20 min

Serves:

3

Views:

1476
About Recipe:
Quinoa with coconut milk & mango. A perfect healthy and filling breakfast to start the day❤️❤️
Even great as an anytime dessert for all those sweet cravings.
Recipe by Ankini Singh
Ingredients:
Quinoa - 1 cup
Honey - 2-3 tbsp
Cardamom powder - 1/4 tsp
Coconut milk - as per need ( kheer consistency)
Mango pieces - as per need [ lots, we suggest :) ]
Nuts ( soaked overnight)- of your choice
Chia seed ( soaked overnight) - 2 tbsp
Pomo jewels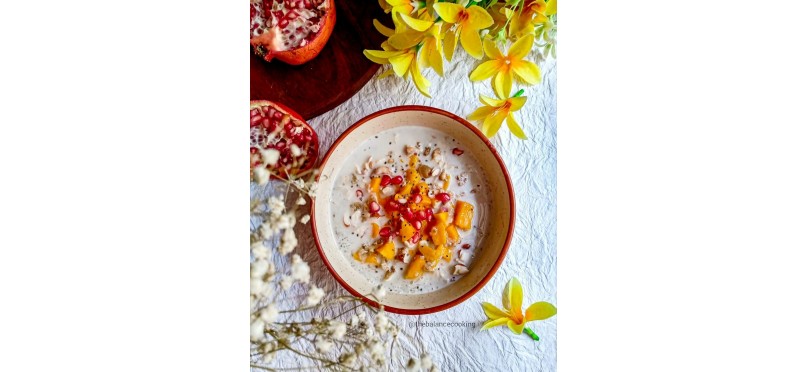 Procedure:
Cook 1 cup quinoa with 3 cups of water. (Let the quinoa cook completely and the water dries up)
Add cardamom powder & fresh homemade coconut milk (the consistency will be like a kheer), turn off the gas and keep it aside covered for 10 mins.
Let it cool down.
BOWL:
In a serving bowl, take the quinoa, add 2-3 tbsp honey (you can add more depending on how much sweet you want)
Chia seeds (soaked overnight)
Nuts and seeds (soaked overnight)
Lots of Mango cubes and pomo jewels on top
Sprinkle some chia seeds
An absolutely healthy, filling & nutritious breakfast is ready. Bon Appetit!!!