Vegan Mango Cheesecake Recipe
Posted By:

Sudipto Nayak

Category:

Dessert

Level:

Medium

Cooking Time:

45+overnight resting min

Serves:

4-5

Views:

1255
About Recipe:
Happy National Cheesecake day !
I never baked cheesecake before, tried this for the first time..it was yumm Applied a generous amount of mango puree (Aamraas) on top, it tasted really good.
have used fresh organic mangoes from @healthybuddhaorganic - recipe by Ankini
Ingredients:
Crust of the cheesecake -
1 cup oats flour
2 tbsp psyllium husk
2 tbsp flax seeds powder
1/2 tsp cinnamon powder
1/4 tsp salt
2 tbsp peanut butter
1 tbsp sunflower oil
1/2 cup dates paste
The filling :
1 cup cashew cream
1/2 cup coconut milk
1/2 cup mango puree
1/3 cup Erythritol powder (or any sweetner of your choice)
1/2 tsp cardamom powder
Little water if required
2tsp agar agar powder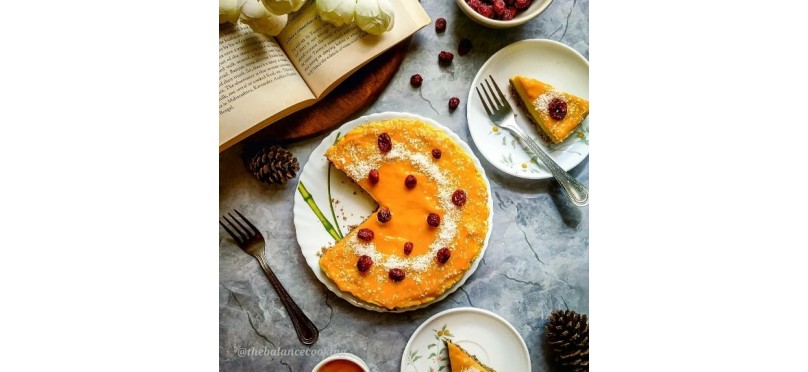 Procedure:
Crust of the cake
Mix all the dry ingredients first, then add in the wet ingredients.
Mix nicely with your hand, grease the baking dish, and line with parchment paper.
Press the mixture into the bottom of the pan evenly.
Bake in a preheated oven at 180°C for around 10 mins.
Once it's done, keep aside and let it cool completely
Filling :
Mix agar agar nicely into little water and keep it ready.
Warm the coconut milk (don't boil) add in the other ingredients, mix thoroughly. Lastly add agar agar and give it a good mix, pour the mixture on the crust of the cheesecake.
Tap to release any air bubbles, now take a large piece of foil.
Place the baking dish on it and wrap the foil around the dish.
Now place the dish on a bigger baking tray and fill the tray with hot water.
Bake it in preheated oven for around 50-55 mins, let it stay in there for more 1/2 hour, then take it out.
Cool completely, and refrigerate overnight
Run a knife around the edges, take out the cheesecake, top it with some good amount of mango puree, slice and enjoy !!!