Apple Halwa Recipe
Posted By:

Healthy Buddha

Category:

Dessert

Level:

Medium

Cooking Time:

40 min

Serves:

6

Views:

2295
About Recipe:
Once on a cold afternoon when there were too many apples in the kitchen and I was wondering what to do with them. I found a halwa recipe using mix fruits in a recipe book. Adapting the same recipe I made apple halwa and this has been a favorite all these years. The best part of this apple halwa is that it is not a heavy dessert as no milk, cream or evaporated milk (khoya) is added in the halwa. This apple halwa is also good for kids who make a fuss to eat apple. Recipe by Dassana Amit
Ingredients:
1 kg organic apple or 7 to 8 medium sized organic apples or 7 cups chopped apples
5 tablespoons sugar / jaggery /coconut sugar- add as required - optional if apple itself is sweet enough
3 tablespoons ghee
2 tablespoons water
1 teaspoon cinnamon powder
1 teaspoon vanilla extract
10 almonds - chopped
10 cashews - chopped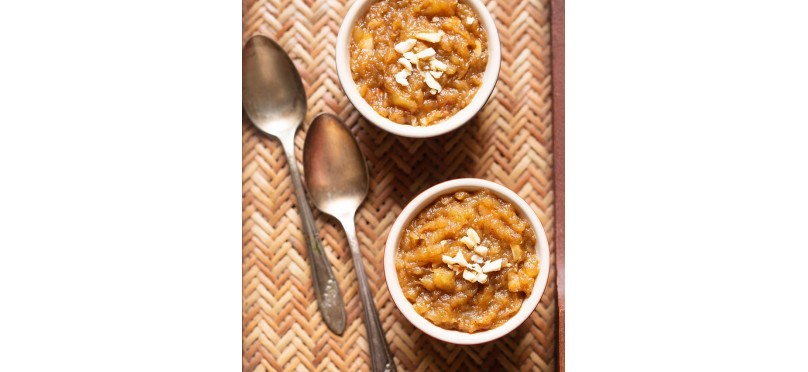 Procedure:
Preparation For Apple Halwa Recipe
Rinse 1 kg apples (7 to 8 medium-sized apples) very well in water using a colander. Drain all the water. Then peel each apple.
Quarter them and slice off the part containing seeds and pith.
Then chop the apples in small cubes. You will need 7 cups chopped apples.
Cooking Apples For Making Apple Halwa
Heat a heavy kadai or pan and keep flame to medium-low. Add 2 tablespoons pure ghee in the kadai and let it melt.
Add the chopped apples.
Mix it with the ghee and begin to saute the apples on a low to medium-low flame for some 5 to 6 minutes. Some apples will soften and some won't.
Then add 2 tablespoons water. Mix again.
Cover the kadai or pan cook for 12 to 15 minutes. Stir at intervals.
On a low to medium-low flame cook covered till all the apples have softened and become mushy. The apples mixture will start to thicken.
With a spoon mash the cooked apples and keep on stirring so that the mixture does not stick to the bottom of the pan. You could keep some small chunk sized pieces if you want.
Making Apple Halwa
Then add sugar. Tangy apples will require more sugar. So amount of sugar to be added depends upon the sweetness of the apples. Mix well.
Stirring often cook till some ghee can be seen at the sides for about 9 to 10 minutes on a low to medium-low flame. There should be no bubbling of apple juices in the halwa.
Then add cinnamon powder. Apples and cinnamon together are a wonderful combination.
Next add vanilla extract.
Add chopped nuts. Also keep a few chopped nuts aside for garnish.
Mix very well. Check the taste of apple halwa and adjust according to your taste.
Sauté stirring often for 3 to 4 minutes till the apple halwa mixture become one and starts to pull away from the sides of the kadai.
Serve apple halwa hot or warm garnished with some chopped nuts.
Leftover apple halwa can be refrigerated. Stays good for a week.
Tips:
To make apple halwa use apples which are sweet. You can use any variety of apples that are sweet. Avoid green apples or apple varieties which are tart.
If you use tart or tangy apples, then you may also need to add more sugar/sweetener.
Sugar is optional in the recipe and can be skipped.
Instead of sugar sweeteners like coconut sugar, jaggery, maple syrup can also be added.
To make your apple halwa even more tasty and delicious use pure organic cow ghee. You can buy pure ghee online in bangalore from Healthy Buddha.