Fried Green Tomato Recipe
Posted By:

Healthy Buddha

Category:

Other

Level:

Easy

Cooking Time:

35 min

Serves:

5

Views:

2939
About Recipe:
A delicious classic
snack
recipe, best had outdoors in the company of friends. Recipe by Karen Rankin.
Ingredients:
Vegetable oil or peanut oil, for frying
4 medium-size green tomatoes (about 7 ounces each)
1 cup (about 4 1/2 ounces) cornstarch
2 large eggs
1 cup buttermilk
2 teaspoons kosher salt
2 cups fine yellow cornmeal (about 11 1/2 ounces)
1/2 teaspoon black pepper
1/4 teaspoon cayenne pepper
Sea salt
Note : 1tsp Table salt = 11/4tsp kosher salt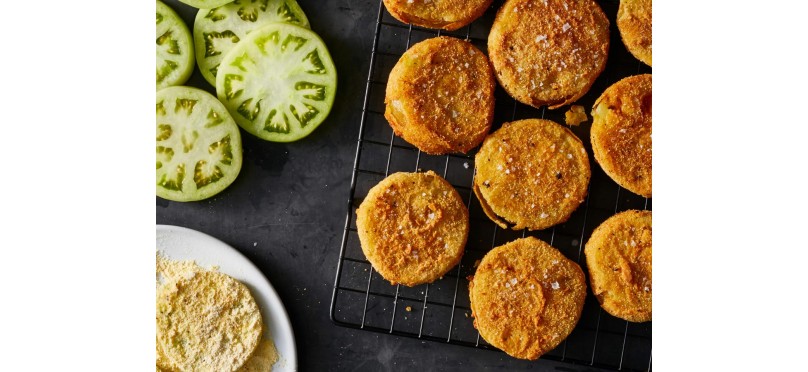 Procedure:
Pour oil to a depth of 1/2 inch into a large cast-iron skillet. Heat oil over medium-high to 325°F. (Closely watch the temperature, adjusting heat as necessary).
Slice tomatoes into 1/4- to 1/2-inch-thick slices. (You should get 4 to 5 slices per tomato.) Place cornstarch in a wide, shallow dish.
In a second wide, shallow dish, whisk together eggs, buttermilk, and 1/2 teaspoon kosher salt. In a third wide, shallow dish, stir together cornmeal, black pepper, cayenne pepper, and remaining 1 1/2 teaspoons kosher salt.
Working in batches, dredge tomato slices in cornstarch, shaking off excess; dip in egg mixture, and dredge in cornmeal mixture, patting cornmeal coating onto slices. Place breaded slices on a parchment paper–lined baking sheet.
Working in batches, fry tomato slices (about 3 to 5 slices at a time) until golden brown and crispy, 3 to 4 minutes, flipping halfway through frying. Place on a baking sheet lined with paper towels, and sprinkle with sea salt.