Turmeric Root Curry with Green Peas (Vegan) Recipe
Posted By:

Healthy Buddha

Category:

Lunch

Level:

Easy

Cooking Time:

40 min

Serves:

4-6

Views:

1745
About Recipe:
A belly-warming one-pot Turmeric Root Curry with Green Peas from the northwestern Indian state of Rajasthan, with fennel and coriander powders and garam masala. It is an easy to prepare vegan curry. This recipe is slightly modified from the traditional which uses yogurt. Coconut milk is used instead, because the sweetness of the coconut milk is perfect with the turmeric root. Recipe by Vaishali
Ingredients:
2-inch pieces turmeric root, peeled and grated coarsely (turmeric stains the skin temporarily, so use gloves while prepping if you want to avoid yellow hands and fingernails) - 6
coconut oil - 1 tbsp
green peas - 1 cup
grated ginger - 1 tsp
moderately hot green chili , optional - 1 small
fennel seed powder - 1 tsp
coriander powder - 1 tsp
garam masala - 1 tsp
finely chopped coriander leaves - 2 tbsp
large tomato, pureed - 1 cup
coconut milk - 10 oz / 1.5 cup
Salt to taste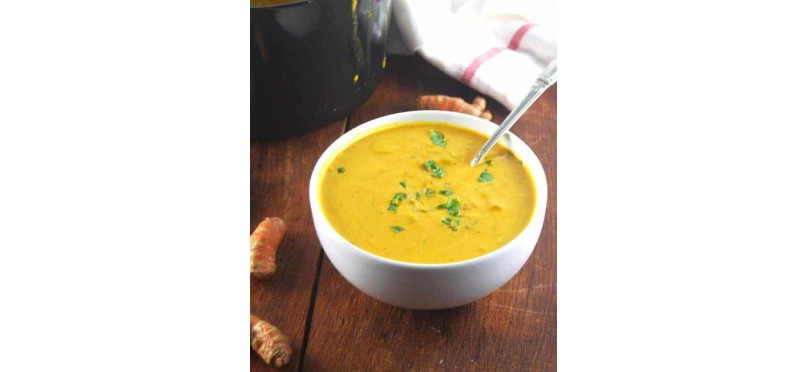 Procedure:
Heat the oil in a saucepan and add the turmeric root and saute, over medium-low heat, for 10 minutes or until the turmeric starts to slightly brown. ( make sure you saute the turmeric for a full 10 minutes because turmeric is known to have bitter taste)
Add the grated ginger, chili and coriander leaves and saute another minute.
Add the green peas and saute for a couple of minutes.
Add the powdered spices, including the fennel seed powder, the coriander powder, and the garam masala.
Add the tomatoes and stir well to mix. Let the mixture cook about two to three minutes or until it boils.
Add the coconut milk and bring to a boil.
Add ½ to 1 cup water, according to how thick or thin you want your curry to be. I add less because I like the curry thick.
Bring the curry to a boil, then cover with a tight lid and cook the curry for 15 minutes over medium-low heat.
Turn the heat off and let it stand for a few minutes before serving.
Garnish with fresh coriander leaves before serving.