Orange Peel Gojju Recipe
Posted By:

Healthy Buddha

Category:

Other

Level:

Easy

Cooking Time:

20 min

Serves:

4

Views:

1687
About Recipe:
What do you do with peels of Orange ? If the answer is throw.. Hey wait !! let me tell you … a lip smacking curry / Gojju that can be made using these peels. This " Orange peel gojju / Orange skin curry " is tangy , sweetish , spicy ,slightly bitter and bursting with flavors. If we peep into traditional grandmas kitchen ,we are sure to find numerous ways in which they incorporated the peels, seeds and kernels of various veggies in their meal. So next time you are about to throw the peel..stop and do try this Orange peel Gojju I am sure you will love it. Its not just healthy, but tasty too. Recipe by Smitha Kalluraya( smithakalluraya.com)
Ingredients:
2 Medium size orange
big lemon size Tamarind
3-4 tbsp Jaggery you can do +/- based on your taste
1 tsp Rasam powder
1 tsp Chilli Powder
1 tbsp Rice powder
Salt to taste.
To Temper
1 tbsp Oil
1 tsp Mustard seeds
1/2 tsp Cumin Seeds Jeera
1/4 tsp Fenugreek seeds methi
1 tsp Urad dal
1 broken Red Chilli
1 Green Chilli ( Slit )
A pinch Hing /Asafoetida
1/4 tsp Haldi turmeric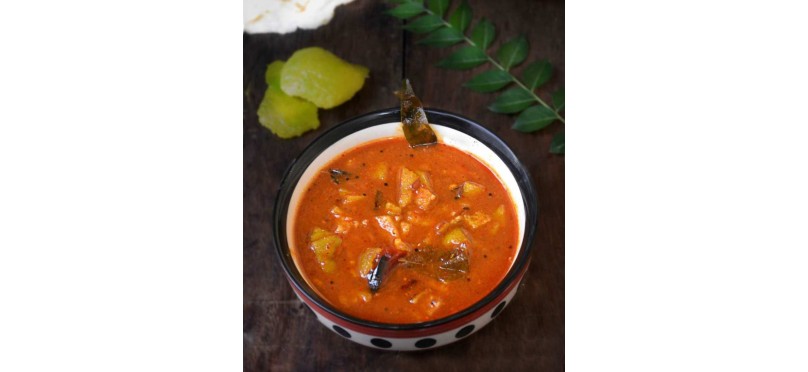 Procedure:
Peel out 2 oranges. Gently scrape the white region from the orange peel using a spoon. Remove as much as possible.. this will reduce the bitterness.
Chop finely orange peels.
Soak tamarind in water . After its soaked well ..squeeze out tamarind water and keep aside .
In a kadai take some oil and temper with mustard seeds,urad dal ,jeera & fenugreek seeds. When it splutters add curry leaves , red chilli , green chilli , hing and haldi. Mix. Add chopped orange peel. Fry for 4-5 mins.
Later add tamarind water , salt , jaggery , chilli powder and rasam powder . Add some water and close the lid . Keep the flame on low medium and allow the peel to cook well. Mix in between.
Mean while , in a mixing bowl , mix rice flour in water such that no lumps are formed.
When orange peels are cooked well , add the rice flour mix to the curry and allow it to boil for 1-2 mins. Adding rice flour gives nice thickness to the gravy. Taste test. If the desired consistency is attained , switch off.
Serve yummy Orange gojju with hot rice / chapathi / Plain rice roti ( Ubbu Rotti ) / idli etc . Since its simmered nicely , tastes good for 3-4 days without fridge too.
Notes:
The peels should be fresh ... else they won't taste good .
Scrapping the inner white from the peel helps in reducing bitterness to some extent .
I have used a mix of rasam powder as well chilli powder . You can either use any of them or add both as i do .
Basically this curry is tangy , sweetish So you may have to add more /reduce jaggery n tamarind qty depending on the sourness of peel.