Watermelon Peel Sabji Recipe
Posted By:

Healthy Buddha

Category:

Lunch

Level:

Easy

Cooking Time:

30 min

Serves:

2-3

Views:

1406
About Recipe:
Watermelon Rind Sabji using the green edible skin of watermelon is a Vegan, No onion No garlic North Indian Style sabji/sabzi or dry vegetable. Again this sabji is taken from my mom's recipe collection where she has been making this for ages. Yes, the green skin or the green rind of the watermelon is edible. People do use the white rind at times, but the green edible rind is not very popular. Reason being it has a tough skin. I read so many posts and everywhere it was you need to discard the green part. Stop that right away and use this fiber-rich skin when you can Recipe by Renu Agarwal ( cookwithrenu.com )
Ingredients:
2 Cups of Green Watermelon Rind cut into small pieces (Approximately – 230 grams)
½ teaspoon Asafoetida – Hing
1 teaspoon Cumin Seeds
¼ teaspoon turmeric
1 teaspoon Coriander powder
½ teaspoon Garam Masala Powder
2-3 green chillies finely chopped
¼ inch ginger finely chopped
1 teaspoon oil of choice
Salt to taste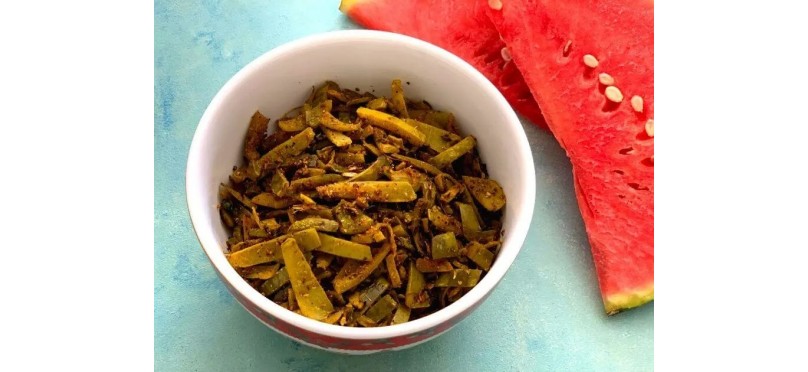 Procedure:
Wash and clean the watermelon rind.
Using a sharp knife separate the green and white part of the rind.
Cut the green rind into small pieces. I prefer to cut lengthwise around 1 inch in length.
For 2 cups of water, add around 2 cups of water and pressure cook in a pressure cooker for 2-3 whistles until tender.
If using an open pan, boil a pot with 4 cups of water. Add the watermelon rind to it and let it boil until tender.
Once done, let this cool completely. If you prefer you can do this step a day earlier and refrigerate the rind.
Now remove the rind and squeeze out extra water and keep the rind in a separate plate or a bowl.
In a pan add 1 teaspoon oil
Once hot, add asafoetida and cumin seeds.
Let the cumin seeds crackle.
Once done add the watermelon rind, green chilly, remaining masala and salt.
Cover and cook this for 8-10 minutes until the masala is well incorporated, stirring in between.
The sabji should be done in about 10 minutes , or until the masala is cooked properly and there is no moisture left.