Giloy Kadha (Amruthaballi Kashaya) Recipe
Posted By:

Healthy Buddha

Category:

Other

Level:

Easy

Cooking Time:

15 min

Serves:

4

Views:

3208
About Recipe:
Kashaya made out of Amruthaballi, a herb with myriad of potential medicinal qualities. Highly valued in Ayurveda for its detoxifying, rejuvenating, immune-boosting, and anti-rheumatic properties. I was introduced to this by my mother, who takes keen interest in Gardening. This kashaya includes many beneficial ingredients that help in overall better health. Recipe by Smitha Ravi (thekaravaliwok.com)
Ingredients:
3 to 4 pieces of Amruthaballi stems fresh or dried
2 doddapatre leaves (ajwain leaves)
5 to 6 tulsi leaves
1 teaspoon cumin seeds
5 to 6 black pepper corns
1 garlic clove
A small piece of fresh turmeric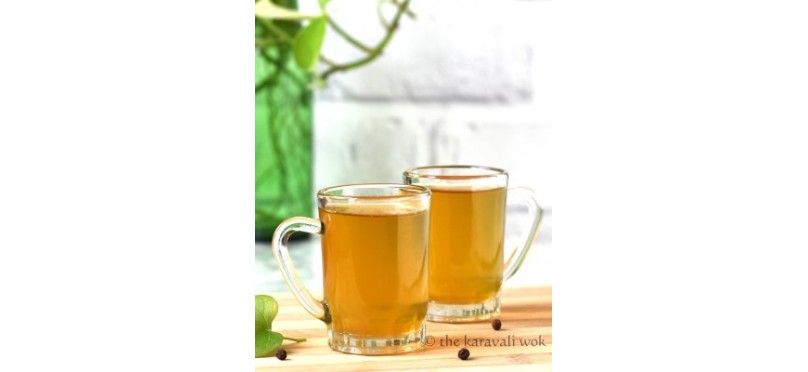 Procedure:
Heat 2 cups of water.
Crush pepper and cumin seeds in a mortar pestle. Add it to the water.
Add the amruthaballi stems, tulsi leaves and doddapatre leaves to the water.
Crush the garlic pod and turmeric and add them too.
Let the concoction come to a boil. Lower the flame and let it simmer for 10 minutes.
Strain the Kashaya and pour them into small glasses.
Consume it while still warm.