Kale Pesto Pasta Recipe
Posted By:

Healthy Buddha

Category:

Dinner

Level:

Easy

Cooking Time:

8 min

Serves:

2 1/2 cups

Views:

1433
About Recipe:
Tasty recipes that also happen to be healthy. A delicious way to include your greens. A warm and comforting dish, easy to rustle up for dinner under 10 minutes. This pesto can also be used as a dip or even in sandwiches. Hemp seeds have been included in this recipe. In addition to protein, magnesium, iron and zinc, hemp seeds contain a good amount of omega-3 fatty acids. Kale Pesto Pasta recipe by Kate.
Ingredients:
Garlic - 4 to 6 cloves
Kale - about 2 small bunch
Hemp seeds or toasted walnuts - 1 1/2 cup
Lemon juice (about 2 lemon) - 4 tablespoon
Salt - 1 1/2 teaspoon
Ground pepper - 1/2 teaspoon
Extra-virgin olive oil (more if desired) - 1/2 cup
Optional - ⅓ cup grated Parmesan cheese
Optional - Red chilli flakes (as required if you want to add some kick)
Pasta - whole wheat - as required ( about 4 cups )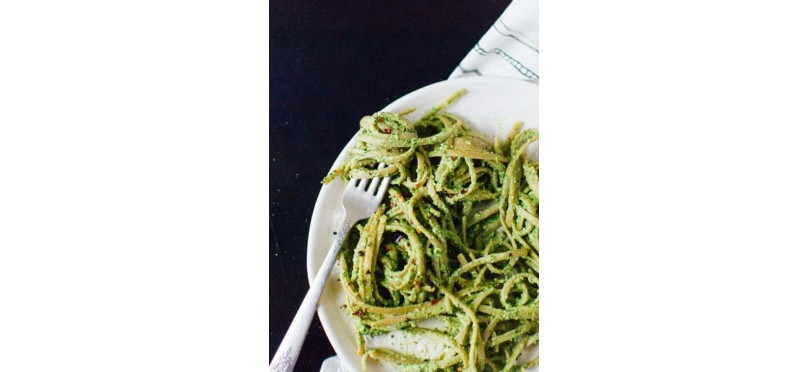 Procedure:
Make the pesto: In a food processor, add the peeled garlic cloves and process until the garlic is minced.
Add the kale, hemp seeds, lemon juice, salt and pepper.
Turn on the food processor and drizzle in the oil. Process until the pesto reaches your desired consistency, stopping to scrape down the sides as necessary.
Taste and add more lemon, salt or pepper if necessary. (You can thin out the pesto with more oil, but if you're serving with pasta, keep in mind that you can also thin it out with reserved pasta cooking water, if you want to.)
Cook the pasta: Bring a large pot of salted water to boil. Add the pasta and cook until al dente, according to package directions.
Mix in required amount of pesto with the pasta and sprinkle grated cheese on top if you like.
Serve it hot and enjoy.