Mapillai Samba Rice Dosa Recipe
Posted By:

Healthy Buddha

Category:

Breakfast

Level:

Easy

Cooking Time:

5 min

Serves:

Around 15-20 dosas

Views:

4075
About Recipe:
Mapillai Samba Rice is one of the indigenous rice variety which is slowly regaining its popularity among us. These indigenous rice variety crops are wonderful crops which suits organic farming, why because they need very less or in some case no fertilisers or pesticides. We started preferring only white polished rice for our cooking and started neglecting these varieties. But, awareness of other rice varieties and millet varieties are spreading today. If you are wondering what to make with this rice here is a simple way, by including it in your dosa batter. Recipe by Harini Aravind (upala.net)
Ingredients:
1 Cup Mapillai Samba Rice/The Bridegroom's Samba Rice
1 Cup Idli Rice
1/2 Cup Urad dal
2 tbsp Channa dal
2 tsp Fenugreek seeds
As required Salt
Oil for drizzling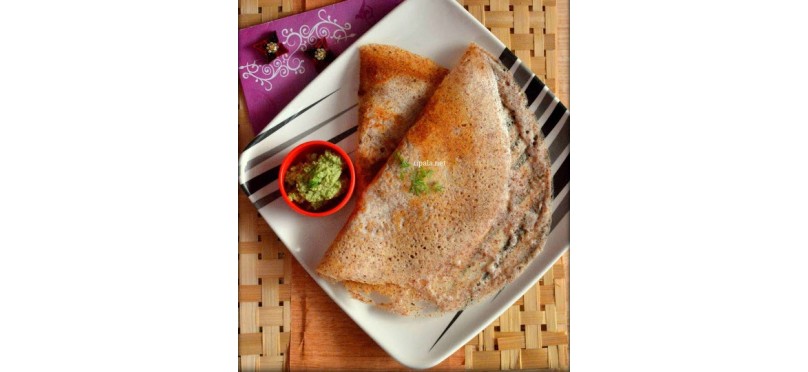 Procedure:
Wash & Soak- Mapillai samba rice, idli rice, urad dal, channa dal, fenugreek in a bowl for 4-5 hours.
Grind to a smooth batter by adding enough water. (As we are grinding for dosa, you can add little extra water for the batter)
Add salt to the batter and mix well.
Leave it to ferment overnight.


For Making Dosa -
Heat the tawa, drizzle some oil over it.
Spread a laddle of batter in a circular motion.
Drizzle oil on the sides and close it with a lid to cook in medium flame.
After the dosa is cooked and turns crispy, remove from tawa and serve hot with your favourite side dish.


Tips:
As we are closing the dosa with a lid, I am not flipping the dosa. If you prefer to cook with out lid then flip it to cook the other side.
As this rice is little hard than usual rice varieties it takes more soaking time. Also it demands little extra water to be added to batter for good fermentation .