Roasted Red Pepper Hummus Recipe
Posted By:

Healthy Buddha

Category:

Other

Level:

Easy

Cooking Time:

20 min

Serves:

6

Views:

2578
About Recipe:
When we first figured out how to make our own hummus, we were shocked at how easy and tasty it is. Few simple steps can make creamy smooth hummus at home. Plus, since it really is so easy, we love adding extra flavor like sweet roasted red peppers. Goes well with as a dip with crackers, nachos, in pitabread, along with a salad or in a sandwich. Very handy to
snack
on or include as a part of a meal too. Recipe by Adam and Joanne
Ingredients:
2 whole red bell peppers (substitute about 3/4 cup chopped jarred roasted red peppers)
1 1/2 cups (250 grams) cooked chickpeas
1/4 cup (60 ml) fresh lemon juice, about 1 large lemon
1/4 cup (60 ml) tahini ( toasted white sesame paste ) - 1 cup white sesame seeds, 2 to 4 tablespoons olive oil (any neutral oil)
1 small garlic clove, minced ( can add more according to your taste )
2 tablespoons extra virgin olive oil, (plus more for serving if you want)
1/2 teaspoon ground cumin
Pinch cayenne pepper (optional)
Salt to taste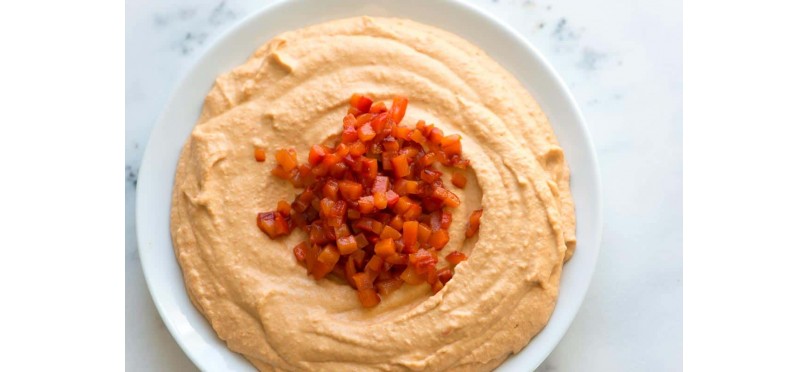 Procedure:
ROAST PEPPERS
Move an oven rack so that it is about 5 inches from the broiler. Turn oven broiler on.
Remove core of peppers then cut into large flat pieces. Arrange pepper pieces, skin-side up, on a baking sheet. Broil 5 to 10 minutes until the peppers skin has charred.
Add peppers to a container , close tightly (seal) then wait 10 to 15 minutes until cool enough to handle. Or, add peppers to a bowl then cover and wait 10 to 15 minutes. Gently peel away the charred pepper skin and discard.
Reserve 1 to 2 pieces of the peeled roasted pepper pieces to use as a garnish when serving then roughly chop the rest.
( If not in an oven, you can directly roast peppers on the gas flame, with careful monitoring till all sides are well charred.)


TAHINI
Toast a cup of white sesame seeds till fragrant. Allow it to cool.
Add sesame seeds to the bowl of a food processor then process until a crumbly paste forms, about 1 minute.
Add 3 tablespoons of the oil then process for 2 to 3 minutes more, stopping to scrape the bottom and sides of the food processor a couple times.
Check the tahini's consistency. It should be smooth, not gritty and should be pourable. You may need to process for another minute or add the additional tablespoon of oil.
Taste the tahini for seasoning then add salt to taste. Process 5 to 10 seconds to mix it in.


MAKE HUMMUS
In the bowl of a food processor, combine the tahini ( white sesame paste ) and lemon juice and process for 1 minute, scrape the sides and bottom of the bowl then process for 30 seconds more. This extra time helps "whip" or "cream" the tahini, making the hummus smooth and creamy.
Add the olive oil, minced garlic, cumin, and a 1/2 teaspoon of salt to the whipped tahini and lemon juice. Process for 30 seconds, scrape the sides and bottom of the bowl then process another 30 seconds or until well blended.
Add half of the chickpeas to the food processor and process for 1 minute.
Scrape sides and bottom of the bowl, then add remaining chickpeas and process until thick and quite smooth; 1 to 2 minutes.
Add the roasted peppers and continue to process for 1 to 2 minutes or until smooth.
If the hummus is too thick or still has tiny bits of chickpea, with the food processor turned on, slowly add 1 to 3 tablespoons of water until you are happy with the consistency.
Taste for salt and adjust as needed. Finely chop the reserved peppers.
Spoon hummus into a bowl, make a small well in the middle and add the chopped peppers for serving.
Store homemade hummus in an airtight container and refrigerate up to one week.