Plum Cake Recipe
Posted By:

Healthy Buddha

Category:

Dessert

Level:

Medium

Cooking Time:

45 min

Serves:

4-5

Views:

1187
About Recipe:
Wholewheat Jaggery Almond plum cake !!! I love fruits in my dessert - specially the tart berries and plums which counter the sweetness of the cake and gives our taste buds the 360° experience. This almond plum cake was just that.
I had a lot of fun arranging the plums too - it looked as pretty before going to the oven as it looked after it got out all cooked.
I got these juicy sweet tarty organic Kashmiri plums from Healthybuddhaorganic - def worth a try !!! - Recipe by Rashmi
Ingredients:
1/2 cup vegetable oil, plus some for pan prep
1 cup whole wheat flour, plus more for dusting pan prep
1/2 cup almond meal or almond flour
2 teaspoons baking powder
1/4 teaspoon fine sea salt
2-3 tbsp ground flax and chia seeds
1 large egg
1/2 cup skimmed milk
Finely grated zest and juice from 1 large lemon
1 cup + 2 tbsp jaggery powder
1/4 teaspoon pure almond extract
9-10 fresh plums,quartered and pitted
1/3 cup slivered almonds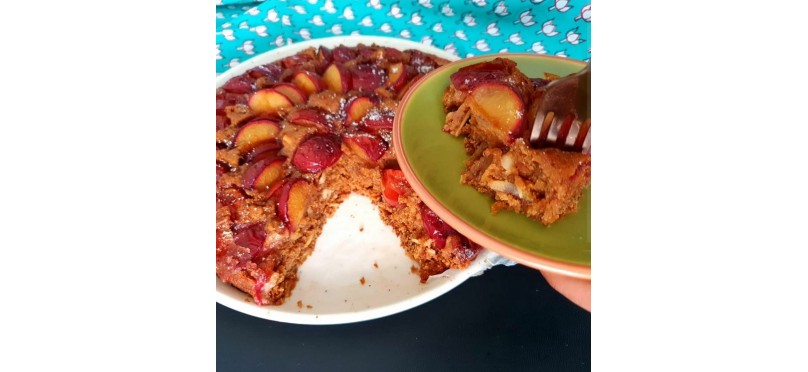 Procedure:
Preheat oven to 150 degrees C
Lightly oil and dust with flour an 8 or 9-inch spring form pan (alternately, you can oil and dust the sides of the pan and line the bottom with parchment paper).
In a larger bowl, whisk together the flour, almond meal, baking powder, 1 cup jaggery powder ,ground flax/chia seeds, almonds ,lemon zest and salt.
In a separate bowl, combine the oil, egg, milk and lemon juice and the almond extract.
Whisk the wet ingredients thoroughly.
Add the wet ingredients to the dry ingredients and whisk until well combined. Do not overmix.
Pour the batter into the prepared pan.
Arrange the plum quarters coated with the remaining 2 tbsp jaggery, on top of the batter.
Bake until the topping is golden brown a cake tester inserted into the center of the cake comes out clean, about 45 minutes.
Transfer to a wire rack and let cool for 20 minutes.
Remove the ring from the pan and place the cake on a serving platter.
Cut into wedges and serve warm or at room temperature.
To make your plum cake more aromatic and irresistable you can buy organic jaggery powder online from Healthy Buddha.